Aloha

Mana Orb Output
# / min (lv. 10)
Habitat
Water, Ice, Forest

Summon Times: 22h 15m
Sell Price: 1,487,500
Aloha came together with Waiki from a sunny island in the south. She loves soaking up the rays at the beach, watching Waiki swimming. When she is happy, she hula dances.
→
place
→
lv. 4
→
lv. 7
Summon Stone
Child
Juvenile
Adult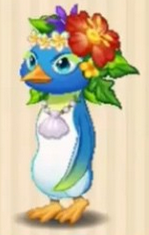 How to Obtain
Edit
        Suggested Combinations                                           Times Summoned                
If you used any of these combinations please +1 to the number in the "Times Summoned" column next to the combination. If you have another combination that you used to summon this Wooparoo please add another row listing the combination that you used.
Or you may spend 850

in the Summon Stone store to buy an Aloha.
Earning Rates
Edit
| lv. 1 | lv. 2 | lv. 3 | lv. 4 | lv. 5 | lv. 6 | lv. 7 | lv. 8 | lv. 9 | lv. 10 |
| --- | --- | --- | --- | --- | --- | --- | --- | --- | --- |
| 18/min | 28/min | 39/min | 49/min | 60/min | 70/min | 81/min | 93/min | 104/min | 115/min |
| lv. 11 | lv. 12 | lv. 13 | lv. 14 | lv. 15 | lv. 16 | lv. 17 | lv. 18 | lv. 19 | lv. 20 |
| #/min | #/min | #/min | #/min | #/min | #/min | #/min | #/min | #/min | #/min |